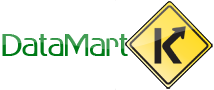 The KYTC DataMart
The Kentucky Transportation Cabinet's (KYTC) DataMart is a web-based data portal supporting specific, often parameterized reporting from a broad range of KYTC functional areas. The DataMart is designed to be a one stop shop for customers and consumers of KYTC data. The DataMart was built to achieve the following Cabinet objectives:
1)To provide a central portal to obtain access to transportation data.
2)To automate and display regularly scheduled reporting.
3)To provide transparency into and public accountability for the Cabinet's management and stewardship of public funds.
One of the financial transparency and accountability objectives of the DataMart is to provide reporting as mandated by MAP-21 (Moving Ahead for Progress in the 21st Century). Through a simple scorecard, the FHWA and the people of the Commonwealth can see how the KYTC's performance compares to FHWA expectation. More can be read about the MAP-21 initiative at http://www.fhwa.dot.gov/map21/.
The DataMart will evolve over time to better meet the needs of our customers and the citizens of the Commonwealth. For this reason we welcome your feedback to help us better architect this site moving forward.
Thank you for visiting the KYTC DataMart. We hope to see you back soon.